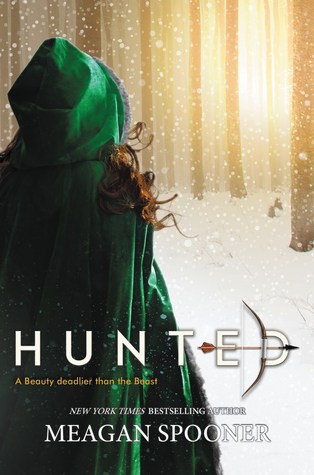 Title: Hunted
Author: Meagan Spooner
Genre: Young Adult / Fantasy
Publisher: Harper Teen
Publication: March 14th, 2017
Pages: 374
Rating: 4 stars
Beauty knows the Beast's forest in her bones—and in her blood. Though she grew up with the city's highest aristocrats, far from her father's old lodge, she knows that the forest holds secrets and that her father is the only hunter who's ever come close to discovering them.
So when her father loses his fortune and moves Yeva and her sisters back to the outskirts of town, Yeva is secretly relieved. Out in the wilderness, there's no pressure to make idle chatter with vapid baronessas…or to submit to marrying a wealthy gentleman. But Yeva's father's misfortune may have cost him his mind, and when he goes missing in the woods, Yeva sets her sights on one prey: the creature he'd been obsessively tracking just before his disappearance.
Deaf to her sisters' protests, Yeva hunts this strange Beast back into his own territory—a cursed valley, a ruined castle, and a world of creatures that Yeva's only heard about in fairy tales. A world that can bring her ruin or salvation. Who will survive: the Beauty, or the Beast?
---
I've seen Hunted on Goodreads like so many times in 2017. I was thrilled to read it, back in February 2017, but I had to wait another month before it came out. I let it rest and didn't think about it a lot. Until the begin of June 2017, I found the book again and started to read it right away.
Hunted tells the story of a girl, Yeva. She isn't the usual girl, she's smart and really likes hunting. All she needs is a man that sees her as her equal. I really liked reading from her POV, Yeva's a strong woman and that's all you need. Besides her POV you read some of the beasts POV. That chance really did it for me. This was the thing that made me fall in love with the story.
I'm a sucker for fairytale retellings, if you're that to you should read Hunted right away! After seeing the new Beauty and Beasts movie I wasn't sure that I would like this book. But I did, Meagan Spooner did something I never thought about. She made her own story based on the fairytale. I can't say I didn't love it.
If Meagan Spooner decides to write more retellings or even a companion novel to Hunted I'm thrilled to read it. I did like Hunted so much that I want to read more by Meagan Spooner.